New Delhi, [11/05/2023] – The Central Board of Secondary Education (CBSE) continues its unwavering commitment to excellence in education through capacity building and innovative teaching-learning processes. Recognizing the pivotal role of principals, teachers, and staff members in equipping learners with 21st-century skills, CBSE places great emphasis on updating their knowledge and skills, as highlighted in the National Education Policy (NEP) 2020.
To cater to the evolving needs of educators, CBSE has launched the Induction Training (Guru Dakshta) Programme. This comprehensive program aims to equip principals and teachers of newly affiliated schools as well as existing CBSE-affiliated schools with the necessary abilities and resources for success within the CBSE system. By providing a smooth onboarding experience, the program enables educators to thrive in their roles and contribute effectively to their schools.
The Induction Training (Guru Dakshta) Programme familiarizes teachers and school heads with the structure, policies, and guidelines of all the constituent departments/units of CBSE. These departments include Training, Examination, Affiliation, Academics, Skill Education, IT, Professional Examination, CTET, Centers of Excellence (CoEs), and Regional Offices (ROs). Through a series of eight sessions, each lasting 90 minutes, participants will gain in-depth insights into the functioning of these departments/units, establishing a strong foundation for their professional growth and competency building.
The development of the Induction Training Programme manual has undergone meticulous stages, starting from outlining and framing the content. The document was then reviewed and verified by concerned department heads, and subsequently enriched and aligned with the practitioners' viewpoint through consultative meetings held at various Centers of Excellence (CoEs) across the country, including Panchkula, Pune, Guwahati, and Delhi (West). Additionally, experts have diligently translated the manual into Hindi, ensuring accessibility to a wider audience.
All principals and heads of schools, both newly affiliated and existing, are encouraged to reach out to their respective Centers of Excellence (CoEs) to organize and participate in the Induction Training (Guru Dakshta) Programme. By harnessing the resources provided in the Induction Training Manual, schools can strengthen the knowledge and skill base of their educators, thereby positively impacting the lives of students, aligning with the vision of NEP – 2020.
The Induction Training (Guru Dakshta) Programme marks a significant step in fostering a culture of continuous professional development within the CBSE ecosystem. By empowering educators with the necessary tools and knowledge, CBSE aims to enhance the quality of education and ensure that learners are equipped with the skills required to thrive in the dynamic world of the 21st century.
For further information and registration, principals and heads of schools are requested to contact their respective Center of Excellence (CoE). Let us embark on this journey of growth and excellence, creating a brighter future for our students.
Official Letter:
Circular No. TRG- 61/2023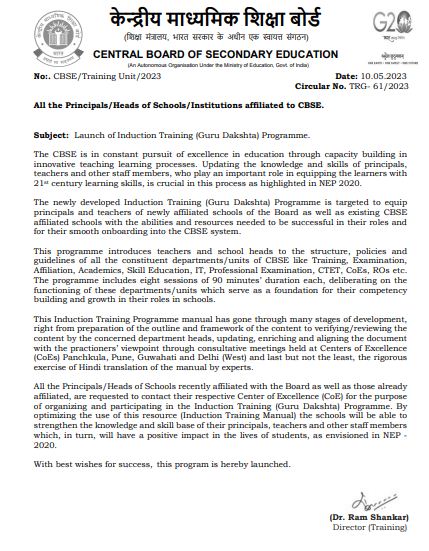 About CBSE: The Central Board of Secondary Education (CBSE) is a renowned national board of education in India. With a commitment to providing quality education, CBSE conducts examinations for secondary and senior secondary levels and promotes innovative teaching-learning methodologies. CBSE strives to equip learners with the necessary skills and knowledge to thrive in a rapidly changing world.